Mama no Tsugihashi Bridge Sang in Myriad Leaves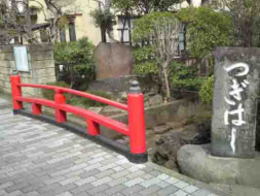 ---
Mama no Tsughihashi Bridge is a small bridge with red parapets under the stone steps in front of the Niomon Gate of
Mamasan Guhoji Temple
has described in some poems since the period of
Manyoshu or Myriad Leaves
. The word Tsugihashi means that a bridge attached with planks, so it was a simple wooden bridge connected several wooden bridges to be built on the sandbar called Ichikawa Sasu, it might be called Mama no Irie (Mama Cove), Mama no Ura (Mama Creek) and Mama no Hama (Mama Beach) in thousand years ago. Mama where Tsugihashi Bridge built over was popular scenic spot during
Edo period
, so it was introduced in
Meisho Edo Hyakukei by Hiroshige
and
Edo Meishozue
since it has been sang in many poems such as Myriad Leaves and an anthology of poems collected by imperial command. Actually there is no beach at Mama, and though the landscape was completely changed in Edo period, many people loved to visit Mama and Tsughihashi Bridge.
Tsugihashi Bridge would be the gate of Manyo Town Mama now.
Why don't you visit Mama no Tsugihashi Bridge?
Mama no Tsugihashi Bridge
Mama no Tsugihashi Bridge is a bridge built on Daimon Dori Street from the route 14th to the gate of Mamasan Guhoji Temple.
Daimon Dori Street was a national road along the seashore of Tokyo Bay from the capital of
Kazusa province
to the capital of
Shimousa
in ancient ages. There was a cove in the mouth of
Mamagawa river
connecting to Edogawa river before Edo period, it was formed just between Shimousa plateau on the north and Ichikawa Sasu sandbar on the south, this cove was called Mama no Irie cove thickly grown with sedges and reed that had leaves on one side, and it has been deeply connected the legend of the beautiful girl
Tekona
. Mama no Tsugihashi described in Manyoshu (Myriad Leaves) might be a bridge connecting several wooden bridges over the sandbars formed around the cove. The location of the brige could be the same as the bridge was now built on since Nagayori Suzuki a great supporter of Mamasan Guhoji Temple and the venerable Nittei put a stone tablet to show the location of Mama no Tsugihashi Bridge to save the legend forever in 1696.
足の音せず行かむ駒もが葛飾の 真間の継橋やまず通わむ
Ashi no oto sezu yukamu koma mo ga Katsushika no Mama no Tshughihasi yamazu kayowamu.
I would like to get a horse could run silently since I would like to pass Mama no Tsugihasi bridge in Katsushika to visit my sweetheart every day.
There are some historic spots described in Manyoshu such as Mama no Tsugihashi bridge, Mama no I well and the tomb of Tekona, Nagayori and Nittei put three tablets where these spots could be, they hoped to keep the memories of these spots forever. Now the stone tablets are called Mama no Sanhi.
参考
真間の継橋案内板
真間の継橋脇(平成2年3月 市川市教育委員会)
真間川沿道(昭和58年3月 市川市教育委員会)
真間の継橋を詠んだ和歌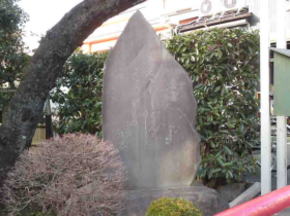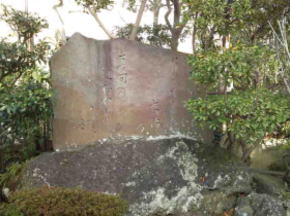 ---
Manyoshu, Myriad Leaves
足の音せず行かむ駒もが葛飾の 真間の継橋やまず通わむ
Ashi no oto sezu yukamu koma mo ga Katsushika no Mama no Tshughihasi yamazu kayowamu.
I would like to get a horse could run silently since I would like to pass Mama no Tsugihasi bridge in Katsushika to visit my sweetheart every day.
Sang by Jien in Shin Chokusen
勝鹿やむかしのままの継橋をわすれずわたる春がすみかな
Katsushika ya mukashi no Mama no Tsugihashi wo wasurezu wataru harugasu mi kana
Sang by Masatsune in Fugashu
五月雨に越え行く波はかつしかやかつみかくるる真間の継橋
Samidare ni koe yuku nami wa Katsushika ya katsumika kururu Mama no Tsugihashi
Sang by Tomomura in Fugashu
かつしかのままの浦風邪吹きにけり夕波越ゆるよどのつぎはし
Katsushika no Mama no ura kaze fukinikeri yuunami koyuru yodo no Tsugihashi
ここに人を渡しはてんとせしほどにわが身はもとのままの継ぎ橋
koko ni hito wo watashitento seshi hodo ni waga mi wa moto no Mama no Tsughihashi
Sang by Kamo no Chomei in Chomeiki and Fuboku Waka Shu
こものはにすだく蛍のほのぼのとたどりぞわたるままの継橋
Komo no ha ni sudaku hotaru no honobonoto tadori zo wataru Mama no Tsugihashi
かつしかやかはぞひうつぎさきしよりなみよりかよふままのつぎはし
Katsushika ya kawazoi utsugi sakishi yori nami yori kayou Mama no Tsugihashi
かつしかやかはそひうつきさきぬらし浪よりつたふままのつぎはし
Katsushika ya kawasohi utsuki sakinurasi nami yori tsutau Mama no Tsugihashi
Sang by Fujiwara no Teika / Teika Fujiwara
わすれられぬままのつぎ橋思ひねにかよひしかたは夢にみえつつ
Wasure rarenu Mama no Tsugihashi omoine ni yoishikata wa yume ni mie tsutsu
Sang by Minamoto no Sanetomo the 3rd Shogun of Kamakura Bakufu
かち人のわたればゆるぐかつしかのままのつぎはし朽ちやしぬらん
Kachihito no watareba yurugu Katsushika no Mama no Tshugihashi kuchi ya shinu ran
武士のいくさの場の勝しかや国はこころのままの継ぎはし
Mononofu no ikusaba no Katsushika ya kuni wa kokoro no Mama no Tsugihashi
抜粋・引用および参考
真間の継橋脇歌碑
市川市ホームページ
市川市図書館ホームページ
真間の継橋案内板
「江戸名所図会6」ちくま学芸文庫
勝鹿図志手ぐり舟 ホビット社
ウィッキペディア
Manyoshu and the Poets
Manyoshu was the oldest collection of Japanese poems containing 4536 poems of tanka, choka, sentoka, bussokusekika and renga poems in 20 volumes edited in
Nara period
. There is no significant record of the date when Manyoshu was edited, it could be edited from late Nara to early
Heian period
. And also there are several theories about who edit it such as by the Imperial Command, by Moroe Tachibana or by Yakamochi Otomo. Now Yakamochi Otomo is regarded as the most likely editor. However, it means that Yakamochi could complete the work, there could be several editors edited each volume in each.
Approximately 400 years from a poem written by the Empress Iwa no Hime of the Emperor Nintoku in 4th century to poems by Yakamochi Otomo in 8th century, Manyoshu introduces thousands of poems by many poets from many social classes and everywhere in Japan, the princess Nukata no Okim, Hitomaro Kakinomoto, Kurohito Takeichi,
Akahito Yamabe
, Tabito Otomo, Okura Yamanoue,
Mushimaro Takahasi
, Otomo Sakanoue no Iratsume and Yakamochi Otom are mainly published on and famous poets in it. Manyoshu introduced not only the poems by the noblity such as the Imperial Family, nobles and bureaucrats in the capital province Yamato but also by farmers, soldiers called Sakimori, and so forth in eastern provinces in Japan called Azuma Uta, most of these poems were simply and honestly expressed mutual humanity. The collection of Manyoshu is the compilation of the outstanding poems written in Nara period and before.
Manyoshu is not only the primary document within Japanese literature but also the important source to research linguistics, history, geography and local culture in Japan.
Akahito Yamabe was a Japanese poet counted as one of the thirty-six great poets of classical waka in early Nara period and he was also the major poet introduced in Manyoshu. Akahito Yamabe was equally admired as the master poet as Hitomaro Kakinomoto.
Akahito might be a low-level government clerk as there is not any information of him in official records. As his works written from 724 to 732 and also written while he accompanied the Emperor Shomu on his journey to Yoshino are existed, it is assumed that he was a kind of a court poet. Akahito also wrote many poems during his trips to some provinces, these poems were described both beauty and pureness of nature and sentiment and he expressed them very carefully. Okura Yamanoue and Tabito Otom were contemporaneous with him. Manyoshu contains his 13 choka (long poems) and 37 tanka poems in it.
Moreover, his work is introduced in Ogura Hayakunin Isshu (One Hundred Poems by One Hundred Poets), 'Tagonoura ni uchiidete mireba shirotae no Fuji no takane ni yuki wa furi tsutsu'.
Yamabejinja Shrine dedicated Akahito Yamabe and Shakuninji Temple founded by him are in Higashi Omi City, Shga prefecture, and some says the city is assumed where he passed away. In Yamabejinja Shrine, there is a stone tablet inscribed with his poem, and there are a cherry tree called Shakunin Sakura and a seven stories stone monument built in Kamakura period designated as an important cultural property by the National Government in Shakuninji Temple.
Anyway, his five stories gravestone is at the foot of Mt. Nukaidake in Uda city, Nara prefecture.
Mushimaro Takahashi was a poet introduced in Manyoshu in early Nara period. He worked as an official in the Imperial Court in early Tenpyo era (729-749), and he went to his new position in Hitachi provincial government. It was left on the official record that Mushimaro had sent a poem to Umakai Fujiwara when he started to go to west as Saikai Setsudoshi (the general to protect western japan) in 732. There is little specific information of him in official records, so he is assumed to be a low-level government clerk. It is said that he went to the east and lived in Hitachi province, and he worked for compiling Hitachi no Kuni Fudoki under Umakai Fujiwara.
Mushimaro described Togoku (the eastern Japan) from
Suruga
(
Shizuoka
) to Hitachi (Ibaraki), Settsu (Hyogo), Kawachi (Osaka) and the Capital in Nara. He left many poems describing the eastern Japan such as 'Tsukubasan ni noboru uta (the poems of climbing Mt.Tsukuba)' when he was on the way to Hitachi province or in it. He made some legends the subject matter of his choka an tanka poems so he wrote the poem describing Tekona in Mama Shimousa (Ichikawa city in Chiba), Unai Otome in Ashiya Sattsu (Ashiya city in Hyogo) and Mizue no Urashimako. In Manyoshu, Mushimaro left 14 chokas, 19 tankas and 1 sentoka poem in.
参考
滋賀・びわ湖観光情報ホームページ
東近江市観光協会公式サイト東近江観光ナビ
デジタル大辞泉
ブリタニカ国際大百科事典
百科事典マイペディア
デジタル版 日本人名大辞典
朝日日本歴史人物事典世界大百科事典
日本大百科全書(ニッポニカ)
ウィッキペディア
Mama no Tshugihashi Bridge has great accessibilities from both Narita and Haneda International Airport.
From Narita International Airport, take Keisei-line and get off Ichikawamama Sta or Konodai Sta, take minimally 45 minutes from Narita Airport. And also take JR Sobu-express line, transfer the line at Funabashi to Keisei-line, get off Ichikawamama Sta or Konodai Sta.
From Haneda International Airport, take Keikyu-line bound to Narita, and get off Ichikawamama Sta or Konodai Sta.
Take 10 minute walk from both Ichikawamama Sta or Konodai Sta.
Mama no Tsugihashi Bridge
4-7-24 Mama, Ichikawa-shi, Chiba-ken
Mamasan Guhoji Temple and Mama Introduced in Myriad Leaves
---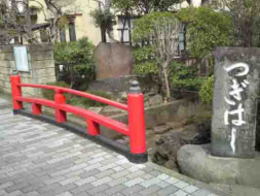 The Tsughihashi Bridge in Mama
---
---
---