The Yonsoku-mon Gate In Nakayama Hokekyo-ji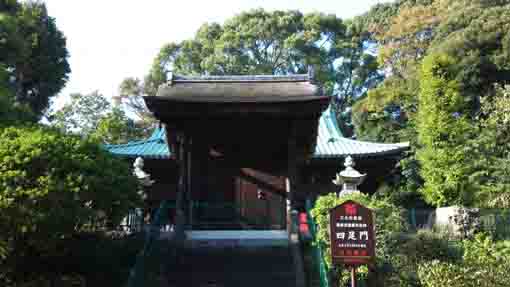 Hokekyoji Yonsoku-mon Gate; The Important Cultural Property Designated by National Government
Date of Designation; May 24th of Taisho 5th (1916)
Date of Construction; Late Muromachi Period
Architectural Structure; Four-pillar Gate with hip-and-gable roofing covered with shingles only
The four pillar gate is called Yonsoku-mon, means that the gate has four legs. It was told that the gate might be that of Aizen-do at
Kamakura
in
Kanagawa Prefecture
moved to here in Nakayama. First it used to be the main gate to the main hall in Hokekyo-ji Temple. In Meiji Era, it was set on the place now on. Considering of the architectural structure, it seemed to be built in late Muromachi Period.
This gate is built with purely Zen-Sect style. The gate was designed with very rare structure that the main pillar stretched out nearly to the ridge and sub pillars stood on the both back and forth of the it are joined with the strong carved beam called Rainbow-shaped tie beams. There are no gate seen in Japan like this unique pillar that the shape of it is ellipse in section.
In addition, the gate with decorated with many sculptures is another feature, it presents well patterns and shapes on were frequently used each in late
Muromachi Period
. The decorations carved to be seen from the front only, therefore this gate originally connected with walls on both side. And Japanese style flat windows were adopted in its fixture to be given structural change. The pillars and beams were made with zelkova, and others were with hinoki cypress, cedar and cherry wood.
The Yonsoku-mon gate was tore down and repaired in Showa 10th (1935) and almost all materials used on it were changed new one, but some materials could be used on were reused in it to restore the cultural property as possible as its original.
参考
法華経寺掲示板による 平成十一年三月市川市教育委員会。
Yonsoku-mon Gate and the Droop Plam Blossoms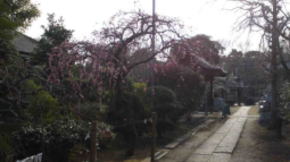 The Map to Yonsokumon Gate In Nakayama Hokekyoji
Yonsokumon Gate In Nakayama Hokekyoji Temple
Yonsokumon Gate in Nakayama Hokekyouji Temple has great accessibilities from both Narita and Haneda International Airport.
From Narita International Airport, take Keisei-line and get off Keisei-Nakayama Sta, take minimally 40 minutes from Narita Airport.. And also take JR Sobu-express line, transfer the line at Funabashi to Sobu-Local line, get off Shimousa-Nakayama Sta.
From Haneda International Airport, take Keikyu-line bound to Narita, and get off Keisei-Nakayama Sta.
From Tokyo Sta, take Sobu-Express line bound to Chiba or Narita, transfer the line to Sobu-Local line bound to Chiba, Tsudanuma, or Nishi-Funabashi at Ichikawa Sta, get off Shimousa-Nakayama Sta.
From Akihabara Sta, take Sobu line bound to Chiba, get off Shimousa-Nakayama Sta.
Take 5 minute walk from Keisei-Nakayama Sta, and take 8 minutes walk from Shimousa-Nakayama Sta.
2-10-1 Nakayama, Ichikawa-shi, Chiba-pref, Japan
The Landmarks in Nakayama Hokekyouji Temple
---
---
---
---
---
---
---
---
---
---
---